Family Photography & Cinematic Films
Couple Photography & Cinematic Films
Family Photography & Cinematic Films
scroll to explore
decorate your home
with custom wall art
relive the feelings
with your close ones
capture your story
and view them forever
Wall Art Collections For Your Home
New York
This stunning collection was designed to be hung in a narrower location. It may seem square in appearance however the feature photograph gives an illusion that it's taller in appearance.
Fine Art Acrylic & Fine Art Canvas
3 Piece Set
Hallway, Bonus Room, Feature Piece, Bedroom
Paris
Designed for your stairway or feature wall. This piece of artwork was designed for the stairway and for those who desire a unique pattern on their feature wall. Two generous square pieces are (visually) held together by the two smaller squares.
Fine Art Acrylic & Fine Art Canvas
4 Piece Collection
Designed for the stairs or a feature wall
Victoria
A four-piece collection that literally can go anywhere. Two large panoramic photographs are complimented by two square photos. An extremely popular piece of artwork due to its possibilities.
Fine Art Acrylic & Fine Art Canvas
4 Piece Collection
Master room, Family Bonus Room, Hallway
Rome
This fabulous piece of artwork is one of my most popular pieces to date. This piece can go vertical or as shown horizontal. Many people love this piece of artwork above the newborn crib. Extremely versatile piece of artwork.
Fine Art Acrylic & Fine Art Canvas
1 Piece Set
Above Newborn Crib, Children's Bedroom, Anywhere
Venice
This collection contains nine photographs and to many is a fun piece of artwork due to the vast arrangement possibilities of photographs from your session. An extremely versatile collection piece.
Fine Art Acrylic & Fine Art Canvas
1 Piece Composite
Looks fantastic in your child's bedroom or hallway
London
A stunning well-balanced collection. The main square feature is centered with 4 square photographs from your day. Whatever way you look at this piece of artwork, will be loved.
Fine Art Acrylic & Fine Art Canvas
5 pieces set
Looks the best in a feature room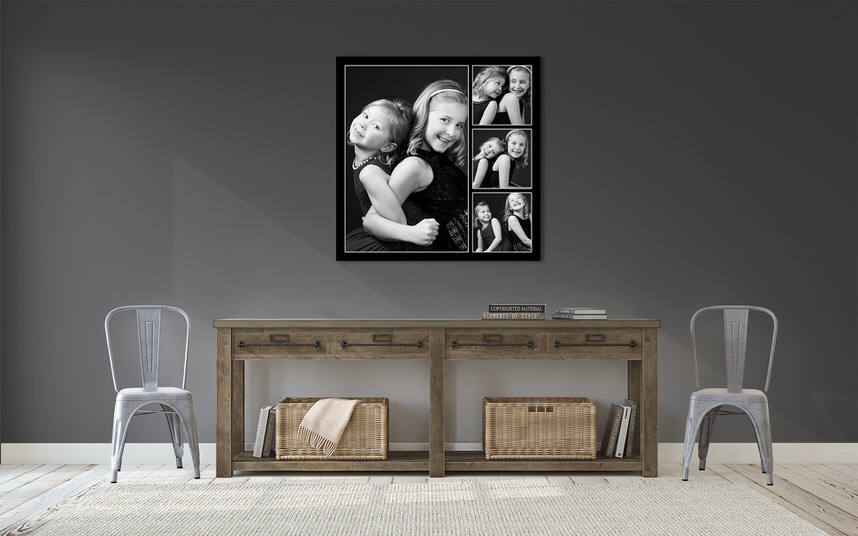 Tuscany
This stunning 4 photo collection composite shares your story with one feature photo and three smaller square photos. A well balance piece that will be loved forever.
Fine Art Acrylic & Fine Art Canvas
1 Piece Set
Children's Bedroom, House Entrance, Anywhere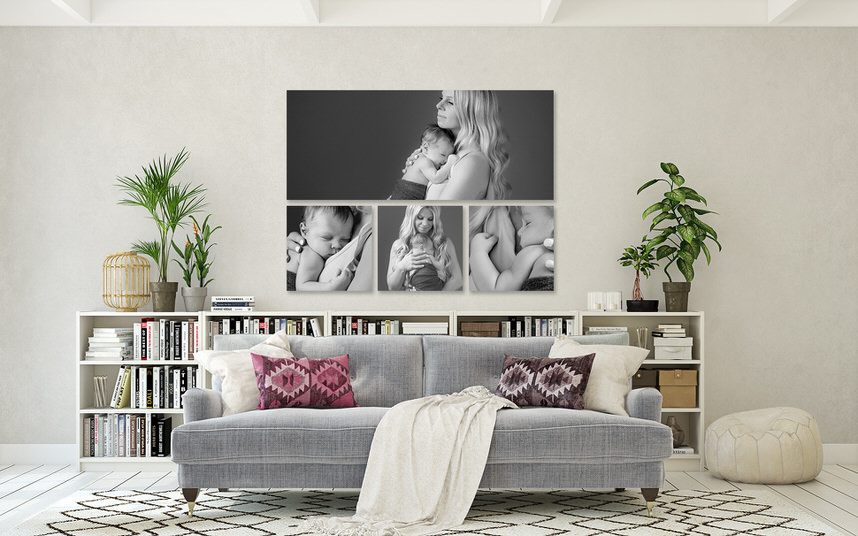 Sydney
A stunning collection with a panoramic photograph allowing for that spectacular feature photograph to stand out. Complimenting this photograph, you also have on display three square photos to complete your story.
Fine Art Acrylic & Fine Art Canvas
4 Piece Set
Master Room, Family & Bonus Room
Don't leave your memories to chance
Keep Your Loved
Ones Close to Your Heart.
Purchase Additional Products
Expand your Wall Art of treasured moments, keep the rest of the photos displayed in beautiful and unique ways. Grow your set with products that circle you and your family's experience.
my client's
TESTIMONIALS
Getting our photos and family video done by Geoff at OKES Portraits was one of the best decisions we ever made. Our experience was more than we could have hoped for. EVERY step of the way was made simple from the initial consult to the phone calls before our appointment (so Geoff could really understand what we wanted) to the viewing of the movie and the selection of our new family photos. Within minutes our normally shy girls (ages 5 and 7) were smiling, laughing, playing and most of all just themselves in front of the camera. The smiles, looks and feeling he was able to draw out and capture are fantastic. Now we have great artwork pieces for our home and a family movie that we are so grateful for. Each time I watch the movie I notice a small detail I had never seen before. We would highly recommend OKES to anyone who is looking to capture the moments in their lives they don't want to forget. Thank you Geoff!
Candace & Tyler
We are absolutely in love with our photographs!!! We have many amazing natural shots that show so much love. The entire experience was super fun and relaxed.
Geoff's passion for what he does and the ability he has to capture not just a "picture" but emotion, love and memories that we will cherish forever is incredible.
He cares so much, and it comes through in every photo he takes.
Thank you, Geoff!
The Krause Family
What sets Geoff apart is how he takes the time to know his clients and what is most important to them. Through conversations with my husband and me, Geoff learned details and nuances about our relationship with each other as well as our children. I believe that the understanding he developed about who we are greatly informed our photography session. He was able to capture moments and feelings that we didn't know were visible ourselves. This is in stark contrast to the alternative experience of being lined up, posed and photographed in an artificial manner.
We came to realize that the images we choose to display in our home send significant messages, most importantly to ourselves. Our children can see themselves every day the way they are – as part of a loving family, each unique and treasured. Thanks, Geoff!
The Johnson Family
Geoff is amazing!!! He photographed us at Moraine Lake, and I am extremely pleased with the results! My fiance and I are not used to being in front of the camera but Geoff has incredible patience and great direction, putting us at ease and capturing our love and moment. He really takes the time to get to know us and utilize this information to bring out our personality and emotions in the shoot. I can definitely appreciate his attention to detail and all the hard work he puts into his photos. Absolutely solid photographer and would love to keep him mind for future collaborations! 🙂
Michelle & Jon
Geoff did a fantastic job photographing our newborn session.
His attention to detail is amazing and the photographs are beautiful.
Geoff was patient and his direction made being in front of the camera a comfortable experience.
I highly recommend him, he is extremely talented!!
The Roth Family
Geoff was absolutely incredible from start to finish. He was a dream come true to find and I can not say enough wonderful things about him and his photography. He will make you feel so comfortable behind the camera so you'll get photos that truly look and feel like you and your partner are the only people there.
Our photos turned out so amazingly beautiful we will cherish them for the rest of our lives.
Look no further, Geoff is simply the best there is.
Stunning work, thanks a million Geoff!!!
Emily & Alec
Geoff was absolutely amazing to work with and I would highly recommend him to anyone!!
He spends the time to get to know your family and whats important to you before the shoot to ensure the photos he takes is what the client is looking for.
Amazing quality work. He is also very patient with kids and super fun to work with.
I will hand down hire Geoff again for my family photos 🙂
The Pow Family
Book Your Session
a Fun experience with your loved ones
It all starts with a phone call.
I will learn what is important to you so that I can suggest a perfect piece of artwork for your home or book in your cinematic experience.