Wall Art Collections
New York
This stunning collection was designed to be hung in a narrower location. It may seem square in appearance however the feature photograph gives an illusion that it's taller in appearance.
Fine Art Acrylic & Fine Art Canvas
3 Piece Set
Hallway, Bonus Room, Feature Piece, Bedroom
Paris
Designed for your stairway or feature wall. This piece of artwork was designed for the stairway and for those who desire a unique pattern on their feature wall. Two generous square pieces are (visually) held together by the two smaller squares.
Fine Art Acrylic & Fine Art Canvas
4 Piece Collection
Designed for the stairs or a feature wall
Victoria
A four-piece collection that literally can go anywhere. Two large panoramic photographs are complimented by two square photos. An extremely popular piece of artwork due to its possibilities.
Fine Art Acrylic & Fine Art Canvas
4 Piece Collection
Master room, Family Bonus Room, Hallway
Rome
This fabulous piece of artwork is one of my most popular pieces to date. This piece can go vertical or as shown horizontal. Many people love this piece of artwork above the newborn crib. Extremely versatile piece of artwork.
Fine Art Acrylic & Fine Art Canvas
1 Piece Set
Above Newborn Crib, Children's Bedroom, Anywhere
Venice
This collection contains nine photographs and to many is a fun piece of artwork due to the vast arrangement possibilities of photographs from your session. An extremely versatile collection piece.
Fine Art Acrylic & Fine Art Canvas
1 Piece Composite
Looks fantastic in your child's bedroom or hallway
London
A stunning well-balanced collection. The main square feature is centered with 4 square photographs from your day. Whatever way you look at this piece of artwork, will be loved.
Fine Art Acrylic & Fine Art Canvas
5 pieces set
Looks the best in a feature room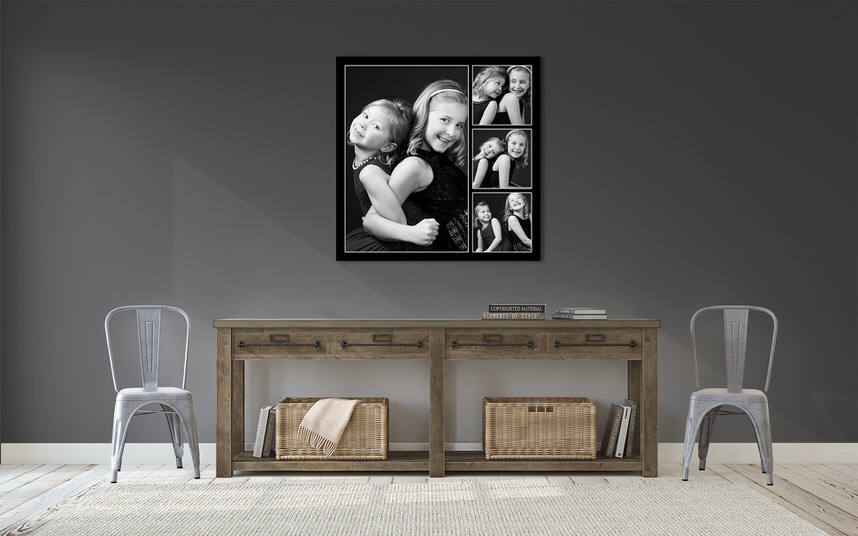 Tuscany
This stunning 4 photo collection composite shares your story with one feature photo and three smaller square photos. A well balance piece that will be loved forever.
Fine Art Acrylic & Fine Art Canvas
1 Piece Set
Children's Bedroom, House Entrance, Anywhere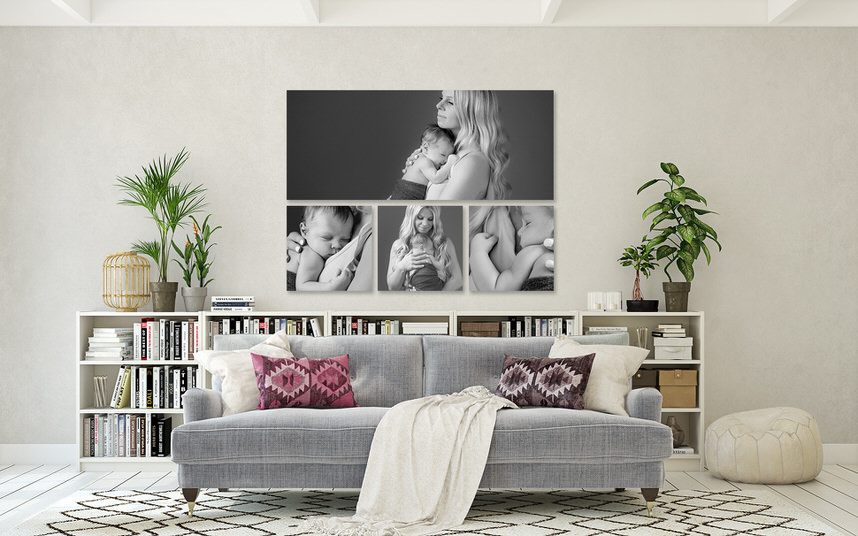 Sydney
A stunning collection with a panoramic photograph allowing for that spectacular feature photograph to stand out. Complimenting this photograph, you also have on display three square photos to complete your story.
Fine Art Acrylic & Fine Art Canvas
4 Piece Set
Master Room, Family & Bonus Room
A photograph on your wall at home brings confidence.
We all love to be reminded of those around us that we love. A connection, that hug, that laugh, is everything.
I AM PROUD TO SHARE WITH YOU BELOW OUR
PRODUCTS & SERVICES AT OKES PORTAITS
Wall Art Acrylic
OKES Portraits Acrylics are a show stopper and are available in high gloss or a matt finish. Mounted on Wood Fiber, you have four colored offerings. This Wall Art is available in two depths, a 2.3 inch and 1.2 inches. Without question, this piece of Art Work will amaze you and is a must-see.
Wall Art Canvas
Redefining canvas to how one is accustomed. OKES Portraits canvas will exceed anything you know of canvas and long gone are the poorly wrapped corners. Beautifully finished and is mounted on Wood Fiber with four different wood color offerings. This Artwork is available in two depths, 2.3 inch and 1.2 inches.
Portrait Box
Handmade distressed leather box with clear high-grade acrylic allowing one to view within a frame style appearance 11x14 mats. Printed on High Definition photographic paper, your prints will look stunning.
Wall Art Print
Your style is classic, and this Artwork piece allows one to celebrate a single print within a mat. A gorgeous, durable mat and a high definition print that starts at 20x30 inches in print size (frame is an additional charge).
Heirloom Album
Heirloom album, this piece of artwork celebrates your photographic experience in print. Your heirloom album can be loved on your coffee table, or taken to friends, or family members. A portable piece, or privately kept in your home.
USB Photo Box
Celebrating your loved ones in print for you to see every day on your wall is what OKES Portraits stands for. At OKES Portraits, we know that Wall Art is not for everyone, so we happily offer a USB Photo Box for clients who would prefer this option while receiving the full experience that OKES Portraits offers.
ARE YOUR READY AND EXCITED
TO BOOK?
I PROMISE YOU, THIS EXPERIENCE OF YOURS IS GOING TO BE AMAZING
IT COSTS NOTHING TO MAKE AN ENQUIRE!